Sometimes it seems like the more effort we put into letting things go, the more we look around and discover there's still a lot to be done. When clutter gets cleared away, another heap of it turns up somewhere; and when those dusty old mental storerooms full of sad memories and wrong assumptions get a good sorting and sweeping, there are plenty more to be found. After a while, it starts to feel like too much effort and a never-ending chore.
That generally means it's time to stop pushing and simply be present in the moment. We can learn a lot from nature in that regard, especially this time of year. When the trees let go of their bright autumn leaves, they don't have to make any effort. Cool winds blow through the branches, and the leaves just fall naturally. Sometimes, as autumn shows us, letting things go doesn't have to be hard.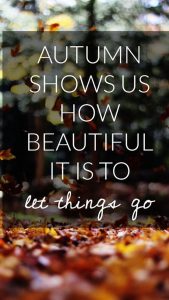 Nurturing Thursday was started by Becca Givens and seeks to "give this planet a much needed shot of fun, support and positive energy." Visit her site to find more Nurturing Thursday posts and a list of frequent contributors.