This past week was rather quiet. On Friday, my husband added a jug of vinegar to the grocery list, for cleaning the hard water stains off our boat. I wondered what sort of sponges to use. Plain soft sponges might not get those spots off, but kitchen scrub sponges might be too harsh and leave scratches on the carbon fiber. So I looked around at the supermarket and found a pack of "Delicate Care" scrub sponges.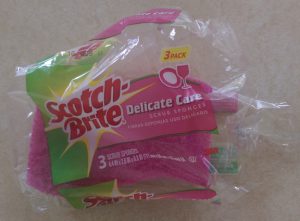 The hard water spots came off quickly and easily, with no problems. And that left me thinking—sometimes it's useful that our consumer economy has so many varieties of whatever we might want. Although everyday items can end up as clutter if we're not careful, buying the right tool for the job doesn't always mean it will end up in a heap of stuff that never gets used again. What's needed is a healthy balance.
* Good Things is a weekly series featuring the many unexpected joyful things that show up when clutter and stagnation have been cleared away. It's meant as a reminder that life is always full of happy little surprises, when there's enough space for them!