I had a curious dream last night in which I was traveling. I stayed at a house that was supposed to have a magical Fountain of Youth nearby. Although I heard water splashing and birds chirping, I couldn't seem to find my way out of the house to discover the fountain.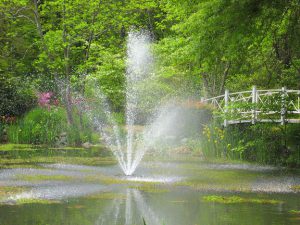 (Creative Commons image via flickr)
The house was big and untidy, with pet food spilled on a tile floor. After I saw that mess, I felt that I needed to take a bath; but when I found the bathtub it was dirty, with random junk all around it. I started cleaning the tub and was still scrubbing busily away when I woke up.
Perhaps not by coincidence, I'd had plenty of sleep for the past three nights. When I got out of bed and saw my face in the mirror, I looked young and refreshed. The physical function of sleep is, of course, to clean up the "junk" that accumulates in the brain and body while awake.
So I believe it would be fair to interpret the dream as a gentle reminder from my subconscious about the importance of getting enough sleep. Being well rested may not literally be a magical Fountain of Youth, but it does go a long way toward feeling healthier!