Although the weekend was chilly enough that I wouldn't have said it felt like spring, my husband went out sculling on both Saturday and Sunday afternoon. He rowed a double with another member of our club who loves rowing enough to go out on a late-winter day when it's sunny, if a bit windy. The water temperature was cold enough that he wouldn't have risked going out on the river in a single, which is less stable; but he had a good time in the double.
Monday was cooler, a dark day with low clouds. I put an image of a foggy path winding through a park on my digital art display, and it matched the outside view with more accuracy than I might have preferred.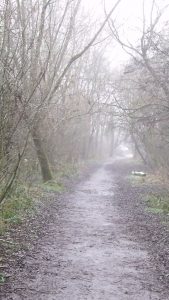 (Photo credit: Elliott Brown)
The weather didn't change much on Tuesday, and this morning looks about the same. That's all right, though—it is close enough to spring that the birds can be heard chirping happily at sunrise, even when there's not much sun to be seen. It won't be long before we can get out on the river regularly and see the herons, beavers, and other wildlife.