My exercise room has a new occupant, and it is not a dinosaur. After borrowing old Concept2 ergs from the rowing club twice to use in online races over the winter, my husband and I decided to buy a new one. The Hydrow that we bought in 2019 has fun instructor-led workouts, while the Concept2 just has a small monitor that displays the pace and other basic statistics.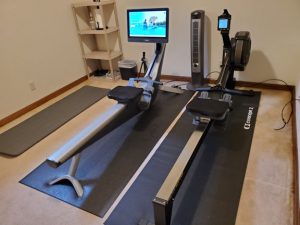 Concept2 has more options in that it can be programmed for either time or distance and for intervals, which Hydrow cannot; everything on Hydrow is time-based. So a Concept2 is very good for training, in addition to online races, some of which require all competitors to use Concept2 machines.
We much appreciated the rowing club's generosity in allowing us to borrow the old machines, which are in reasonably good condition, considering that they've been kept in a non-climate-controlled boathouse for 15 years. Having a nice new Concept2 in our basement will be much more comfortable, though; and now we won't inconvenience any club members by borrowing machines that someone might have wanted to use. And, if it gets late in the day and neither of us has gotten any exercise yet, we can both row at the same time, rather than one of us having to wait.
Concept2 ergs are still very affordable. Unlike many companies, they did not raise prices during the pandemic. We had to be on a waitlist for six weeks, but that was reasonable, and the machine was shipped promptly when we reached the top of the list. It arrived yesterday, and we're happy with it.