Last week I read Empty Planet, a book about the modern world's falling birthrates. The authors believe that having only one or two children is becoming a worldwide norm and, as a result, they expect global population will peak soon and then drop sharply for the foreseeable future. The trend of moving to the cities will continue. After a while, almost everyone will live in large metropolitan areas, while leaving the rest of the planet to revert to wilderness. People won't dream of having a peaceful cabin in the woods anymore.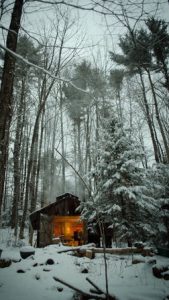 Some of that makes sense to me, but I have to disagree with the authors to the extent they predict young people will have a lower standard of living because of supporting a large elderly population. That's based on the stereotype that older folks don't buy much (thus dragging down a consumer economy), don't produce much, lack creative thought, and generally can't do much of anything.
Although it's a fact that many present-day seniors live on a small budget and don't buy much, either for fear of running out of money or simply because of long-standing habits of frugality, I wouldn't assume it has to be that way forever. Rather, I expect it to change along with everything else. Many retirees couldn't save much during their working years because wages were flat for decades. Those who could invest weren't getting much of a return on their money. Middle-aged workers were likely to get laid off because of automation and offshoring, which forced them to spend what meager savings they had. With jobs being scarce, employers were picky, and finding a new job after a layoff wasn't easy.
Now we're starting to see the first glimmerings of what a world with persistent labor shortages will look like. Because young workers are in short supply, companies are having to rely more on middle-aged employees. Many of those employees, however, feel like they've had enough of the rat race after years of being taken for granted and getting tiny pay raises and minimal perks. They've noticed that the stock market is way up—which is not surprising, given the obvious fact that the money saved by being so stingy with the workers has been going to the shareholders. People who have stock funds in their retirement accounts are now realizing that they can afford to retire sooner than anticipated.
Companies are frantically automating whatever they can, but they're discovering that robots are not staying ahead of retirements. Robots do, however, save costs, allowing companies to earn reasonable profits even if they are understaffed. Those profits go to shareholders, the stock market climbs higher, and then more workers can afford to retire and live happily ever after on their stock earnings, even if they're not yet old enough to draw Social Security payments. We're in a loop that just keeps feeding on itself.
Of course, it's possible that a major economic calamity might put an end to the party; but if COVID-19 couldn't do it, then what would? Stocks may not rise as quickly for the next few years because companies will be forced to give meaningful pay raises to retain their long-term employees. The financial markets will still be in good shape, though, because ongoing automation will keep corporate profits up. Employees with bad memories of having been treated like beasts of burden will keep on retiring in large numbers—and because of low birthrates, every year there will be fewer new workers to replace them.
I expect that by 2030 or thereabouts, we're going to see an economy the likes of which has never existed. Chronically short-staffed companies will be doing all they can to persuade retirees to come back to work. That's going to be a hard sell because most retirees won't need the money, so employers will need to find creative ways to make the work more pleasant. Meanwhile, higher salaries will enable young people to be choosy about their jobs. I predict that in the not-so-distant future, most people will work because they enjoy what they are doing, not because they are desperate to pay the bills. The world will become calmer and more peaceful as we leave behind all that stress—and I expect we'll buy plenty of new, fun, mostly robot-made consumer goods, both for ourselves and for the small number of grandchildren we may have.