While the groundhog was seeing its shadow on Monday morning, I looked out my back window and found snow flurries falling at the same time the sun was shining. As a child I would have thought that looked magical, rather than grumbling about not wanting six more weeks of winter. So I took a picture to remind myself that how we feel about things is all a matter of how we look at them.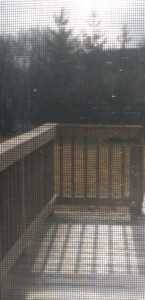 The flurries can't be seen very well through the screen, but I think the photo shows at least a little of the soft magical look. Although it's clear and cold here today, the sunshine coming through the windows feels warm. Every moment of our days is like a high-resolution snapshot packed full of little details, and we're always free to choose which ones get our attention!
Nurturing Thursday was started by Becca Givens and seeks to "give this planet a much needed shot of fun, support and positive energy." Visit her site to find more Nurturing Thursday posts and a list of frequent contributors.