My past blog entries about clutter never featured a photo of the old shelves in the garage, but not because it wasn't deserved. The shelves, left behind by the previous owners when my family moved into our starter house in 1993, probably had been there for many years already. When we bought our current house, we moved the shelves without thinking much about it. Just one more thing to replace eventually.
After that, we didn't think much about the old shelves, except that sometimes when we walked past them we noticed the obvious fact that they had seen better days. But they weren't falling down yet, so there was always something else that got our attention instead.
On Monday afternoon, when it was so cold and rainy that we didn't feel like going anywhere, my husband decided that it would be a good time to put together some new shelves. Not only are they sturdier than the old creaky ones, they're also larger and hold a lot more stuff, letting us organize things in the garage much better. There was so much difference, it left us saying "Wow!"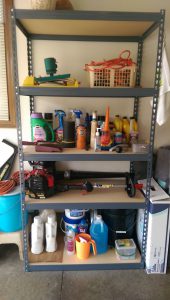 And garbage pickup was the next morning, which was good because there definitely wasn't anything worth salvaging in the old shelves! When we took them apart, one of the screws wouldn't turn because of all the rust, and just had to be broken loose with a kick.
Sometimes a little more structure goes a long way—not only as to the shelves, but also making sure to replace old worn-out stuff when it needs to be done!
* Good Things is a weekly series featuring the many unexpected joyful things that show up when clutter and stagnation have been cleared away. It's meant as a reminder that life is always full of happy little surprises, when there's enough space for them!