All parts of this story are consolidated on one page here.

A narrow stone hallway curved in a long arc toward a dark and featureless end. Torches lined the walls at regular intervals, but they had not been lit. After one glance, Ina set them ablaze with a casual thought. Puffs of dust rose from the stones under her bare feet, and she scowled.
"Yes, I would give it up." Echoing from the dry, close stones, Ina's voice sounded overly harsh and brittle to her ears, answering a question she had not been asked. "To go home to my family—and why shouldn't I want to go home? I never asked to become a witch, or to be given any magical powers, and it's only fair that I should have the freedom to walk away if I so choose."
Somewhere far behind her, Ina heard the raven's harsh caw.
The outline of a door came clear at the end of the hallway, gleaming in the reflected torchlight. It had no knob, but it swung open easily as Mother Ocean extended a hand toward it. Cool air blew into the passage, making the torches cast wavering shadows.
Ina followed the older woman into what looked like a disused courtyard, overgrown with vegetation, in the dim light just before dawn. The glare from the hallway left her without much night vision, and she irritably commanded the torches to go dark again. They obeyed, with sullen flickers of reluctance.
"Only two weeks remain before we celebrate Midsummer's Eve again." Turning her soft, lined face toward the coming sunrise, Mother Ocean spoke as calmly as if her words were only another daily lesson. "Then you will have been here fully a year, and your training will be complete. All memories of your previous life will be restored then, if you so choose. That is our custom."
"Why should I care about your custom, when I never chose to follow it!" Ina was shouting now, far beyond caring whether her voice was loud enough to disturb anyone's morning meditations.
Indistinct winged shapes passed by in the faint light, swooping to glide through an arched doorway ahead. High-pitched squeaks came from the other side of the wall. Ina flinched instinctively before realizing that they were only bats, flying home to roost for the day.
"One final task remains to you." Mother Ocean still faced straight ahead, with her gaze uplifted. "I cannot speak more of it now, but you will know it when the time comes. Act wisely, remember what you have learned, and trust your best instincts. Allow the strength of fire and earth to flow through you—always, always tempered with kindness."
Ina shivered in her bare feet and nightdress, feeling very far from wise and strong. The bats had gone silent as the sun rose over the horizon, brightening the courtyard without yet giving much warmth.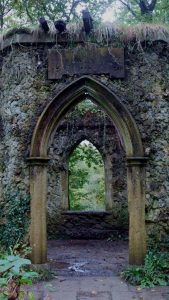 "Do you see it all? I mean, everything in the future?"
Mother Ocean turned toward her now, with a gentle smile. "No, Ina, I see only the points of awareness on which I choose to focus my attention—just as you did, months ago, when I instructed you to close your eyes and watch the ships entering the bay."
Pondering that response, Ina reached with her mind toward the colony of bats on the other side of the wall. She felt their slow breathing as they drifted off to sleep, comfortable and secure in the warmth of their kin. Somewhere, only a little farther away, roses grew beside a garden bench, their fragrant blooms swaying in a gentle breeze. They were in shadow now, with the morning sun behind the house. Within the walls, she would find her kin, just as the bats had done…
"Not much longer, Ina, dear heart. You will see them again."
The image faded, never having quite come clear.
She still could feel the bats, their heartbeats slow and relaxed. In part, she envied them for being able to sleep so easily, without wondering if they would wake up again as themselves. Even if—when—she found her way home, Ina knew her life would never again be that simple.

Click here to continue to Part 16.