…it doesn't feel like a to-do.
This random bit of advice bubbled up from my subconscious mind early on Monday morning, after I went to bed feeling that the long weekend was almost over and I hadn't done much. There wasn't in fact anything that needed to be done right away, but I hadn't been able to relax. I had in mind to answer an email, update my resume, and other non-urgent stuff. My blog was starting to feel neglected, too, but I didn't feel creative enough to write anything. Even choosing an image for my art display seemed harder than usual on Sunday; I finally settled on this photo of the Columbia River Gorge.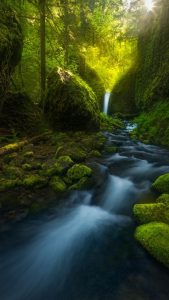 Monday went better when I got my breakfast and simply asked myself what didn't feel like a to-do. I had some thoughts about the email I wanted to write, so I started with that, and after a while the day started to feel more normal. Tuesday went reasonably well too, although I hadn't quite sorted out what to say for this blog entry. Wednesday was busy, but not overwhelming.
Something felt different on Thursday morning, and then I realized that I'd gotten out of bed feeling much calmer. The big flock of to-dos had found somewhere else to roost. They won't be missed!