This week has been cold and blustery here. Even if it had been good weather for rowing, which it definitely was not, the river has been high. So I decided to go on a virtual rowing vacation by putting an image of the Banana River in Melbourne, Florida, on my digital art display. I got the idea from a sculling video showing that river on a beautiful sunny day.
When I looked for photos of the Banana River online, though, I couldn't find anything with the great sunny weather I was imagining. Instead, I found a lot of high-water photos. Apparently the Melbourne area can be prone to flooding. The author of this photo captioned it "Rainy Florida."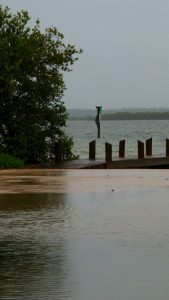 (Photo credit: Rusty Clark)
I put it on my art display anyway, as a reminder to be grateful for where I am at the moment. The grass may be greener on the other side of the fence—but sometimes it is underwater.