Sometimes showing enthusiasm can feel a bit scary. Maybe there was a time when something felt really exciting, but other people complained it wasn't useful or laughed at it. Even if that happened very long ago, those memories are still swirling around in the subconscious mind, just waiting to pop up at the first stirrings of enthusiasm. And if they have been deeply buried for many years, they could be sucking the excitement out of life without it even being apparent why.
We shouldn't judge ourselves as weak for having such fears. After all, most people have had them at one time or another. Trying to bury them deeper doesn't help either—they're sure to work their way out eventually. Simply acknowledging that they are there, without judgment, can be a first step toward calming the mind. Finding little things to feel enthusiastic about on a daily basis is a concrete way of demonstrating to the inner doubter that it's safe now. After a while, those draining old fears will naturally fade away, replaced by much healthier thoughts. Then we'll end up surprising ourselves by how much we can accomplish!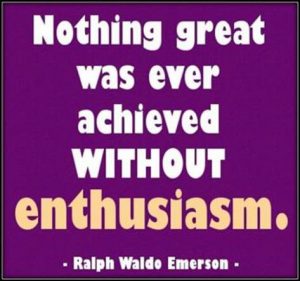 Nurturing Thursday was started by Becca Givens and seeks to "give this planet a much needed shot of fun, support and positive energy." Visit her site to find more Nurturing Thursday posts and a list of frequent contributors.