My daughter, who lives in Cleveland's snow belt, is currently working in Hawaii as a travel nurse and enjoying the warmth and the beaches. As an unexpected adventure, she also got to see the eruption of Mauna Loa up close, and she sent me some photos on Monday. Here's one of them: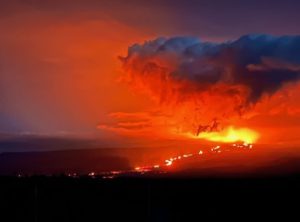 She is a neonatal intensive care nurse, and a few years ago, she worked at Cleveland Metro. Then she discovered that travel nursing paid more, plus the costs of travel and housing. Adventure and more money, what's not to like about that? And of course, as more nurses made the same discovery, hospitals lost more staff and relied even more heavily on temps from the travel nurse agencies, digging themselves into a hole that I can't see them getting out of any time soon.
Somewhat related to the hospitals' woes, I've noticed a few alarmist articles in the news recently about the Federal Reserve's string of interest rate hikes, aimed at cooling off the economy to get inflation under control. Doomsayers warn of recession and job cuts. I think that's overblown, and as supply chains improve, I expect the economy will do much better. I don't foresee many jobs being lost other than in the construction and finance industries, where raising interest rates effectively put a stop to housing speculation.
Now that we live in a world of persistent labor shortages, interest rates don't have nearly the impact on unemployment that they had a few decades ago, when large numbers of workers in the baby boom cohort struggled to find jobs that could easily be sent overseas. We're never going to see an economy like that again. Employers are realizing that they need to hold onto talent, as I am sure the Fed's policymakers are aware. Workers also know that their skills are in more demand than in past years.
Of course, the rate hikes are in part intended to make consumers get uneasy and spend more cautiously. Monetary policy has as much to do with mind games as with economic facts. But overall, I'm not worried. Higher borrowing costs are not going to cause short-staffed employers to lay off workers that they desperately need. Workers likely won't be deterred from job-hopping in search of adventure and better pay, either. We'll see what happens, but I expect it won't be anything dramatic.