I'll be rowing in an online race on Sunday, along with my husband. We can't use our Hydrow rowing machine because everyone is required to use a Concept2 rower. So, this afternoon my husband borrowed two Concept2 machines from the rowing club's boathouse, which didn't inconvenience anyone because the boathouse is unheated and does not get much use over the winter. He set them up in our basement, on either side of the Hydrow.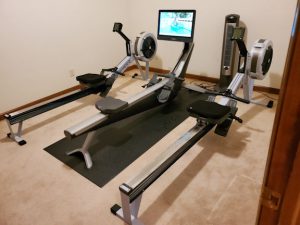 They are older models, and when he came home with them, he cheerfully announced, "Dinosaurs are roaming the earth."
We practiced on the "dinosaurs" for awhile this evening and got them adjusted as best we could. Even though they are old and creaky compared to our nice new Hydrow, I can't really complain because we are fortunate to be able to compete in this race. In a normal year, it would be held in Boston without any online racing. So, we are both grateful for the opportunity, even if our basement now feels a bit like Jurassic Park.
Nurturing Thursday was started by Becca Givens and seeks to "give this planet a much needed shot of fun, support and positive energy." Visit her site to find more Nurturing Thursday posts and a list of frequent contributors.