This morning it was snowy and blustery when I looked outside. My first reaction was along the lines of, "Oh no, snow again, isn't it time for spring and green grass already?" But then I thought about the frigid winter we had two years ago, when I posted this February photo of bushes covered in ice: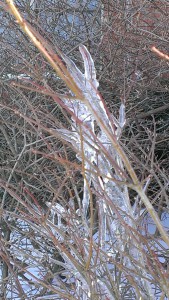 I've generally been trying to cultivate a habit of asking myself, when I feel like complaining about some trivial thing, "Compared to what?" The truth is, most of the stuff that we complain about is totally unimportant, and often it's not even bad by comparison to the same thing at a different time!
Nurturing Thursday was started by Becca Givens and seeks to "give this planet a much needed shot of fun, support and positive energy." Visit her site to find more Nurturing Thursday posts and a list of frequent contributors.