I have a green coat that became a favorite when I got it—26 or 27 years ago. Even after it went out of style and I bought other coats, I still wore it sometimes because it was comfy and warm. Last winter my husband bought me a new coat made of modern synthetic fabric that keeps me just as toasty, even though it's not as thick or heavy. That was very welcome in last winter's long string of freezing cold days!  So I have no good reason to keep the old coat. It might once have been useful, but it is just taking up space in the closet now, and there's no getting around the fact that I've got to give it up.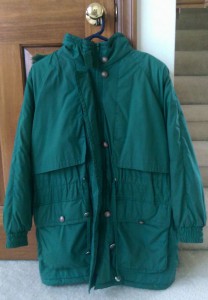 In honor of the occasion, I've added a classic old-school music video to this post. Yes, I know that getting down and dancing was what Marvin Gaye meant by "Got to Give It Up," rather than getting rid of stuff, but I think the song fits anyway! After all, having a comfortable, clutter-free home can go a long way toward feeling in the mood to dance and celebrate! So let's all give it up for conquering clutter, yay!

About Clutter Comedy: Every Sunday (which I envision as a day of rest after a productive week of de-cluttering) I post a Clutter Comedy article describing my most memorable clutter discovery of the week. Other bloggers who wish to join in are welcome—just post a link in the comments! There's no need to publish any "before" photos of your clutter, if they are too embarrassing. The idea is simply to get motivated to clean it up, while having a bit of fun too!