Over the weekend I read the book Counterclockwise by Ellen Langer, a professor of psychology at Harvard who studies how people react to social cues. She is best known for a study in 1979 of elderly men who spent a week living as if they had gone back in time 20 years, in a building that was furnished entirely with items from that time period. They read books and magazines from 1959, listened to the radio shows that were popular then, and watched TV programs from that era on a tiny black-and-white set.
The participants in the control group were told to reminisce about life twenty years earlier in the past tense, while the instructions for the experimental group were to use the present tense and discuss events as if they actually were living in 1959. The men in both groups looked and acted younger by the end of the week, with significantly more of a difference for the experimental group. They stood taller, walked more easily, spoke more confidently, and showed some improvements in objective measures of health such as lower blood pressure readings.
That study, and others discussed in the book, illustrate the effects of our environment on what we believe about ourselves and how the body conforms to those beliefs on a subconscious level. Noticeable changes can happen even if we don't rearrange our physical surroundings in great detail, but simply reframe the way we think about them. The key, according to the author, is to be mindfully aware of the possibilities. When we realize that our habitual assumptions are not necessarily the only way to look at things, we allow ourselves—whether consciously or subconsciously—to discover other ways of being.
I've noticed this effect when changing the images on my digital art display. Nature scenes leave me feeling rested, while photos of interesting places abroad make me feel adventurous; and I'm likely to feel younger and more creative when I choose fanciful scenes, like this seashell picture that I displayed on Sunday. Doesn't it look like a fairy tale illustration from which a mythical creature might suddenly emerge?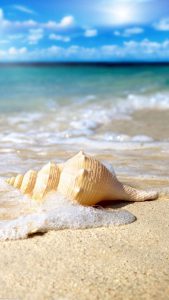 As for all the things we don't notice because we get so used to them, I found myself in one of those situations on Monday afternoon. I went into a jewelry store to get a watch battery, and one of their salespeople pointed out that the prongs holding the diamond in my ring had gotten very worn. Maybe he was exaggerating when he said that the diamond might fall out at any moment; however, once I looked closely at the prongs, there was no doubt that they really did need replacing, so I left the ring for repair.
Of course, if I had ever stopped to think about it, I would've realized that after being worn every day for the 32+ years since I got engaged, the ring would naturally show signs of wear. But it happened so gradually that the changes were not at all noticeable from one day to another, so my mental picture of the ring was that it had stayed the same as always. When I went back to get the repaired ring, the new prongs were much longer. It's such a difference—I keep poking myself on them and getting surprised!