I make a point of surrounding myself with cheerful images, particularly in my house, because I believe that the things we regularly encounter in our environment go a long way toward creating who we are. Even though we may not be fully aware of what is going on around us from one day to another, the subconscious mind notes the smallest of changes and looks for new ways to put those perceptions together, updating the stories it tells about life in the world.
When my husband bought me a digital art display as a Christmas present in 2015, I thought he understood me very well and was being especially kind and thoughtful. Recently he said that he hadn't entirely understood my beliefs in that regard, but just thought it was an interesting gadget that I would probably like. Still, it was a much appreciated gift; and it goes to show that kind acts often have unexpected ripples. In keeping with the water metaphor, I'm displaying a bright, colorful image of boats in a canal today.
Wishing my readers many cheerful sights and ripples of kindness too!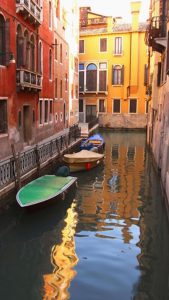 Nurturing Thursday was started by Becca Givens and seeks to "give this planet a much needed shot of fun, support and positive energy." Visit her site to find more Nurturing Thursday posts and a list of frequent contributors.