On both Saturday and Tuesday, I had good workouts on my Concept2 RowErg, in which I was able to stay below my desired pace of 2:05 for a series of five 500-meter intervals. These workouts, with a minute of rest between intervals, are meant to assess fitness for a 2K rowing machine race. Concept2 is the standard machine used for competitive races.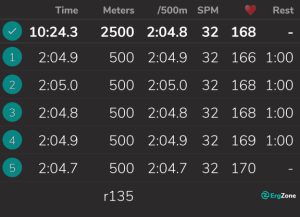 This is noteworthy because I had been trying to achieve the 2:05 pace for two years, but I had never been able to do it in a 2K race. I could stay at 2:05 for a little over 1000 meters, but then I would get tired and start slowing down. I couldn't pick up the pace at the end, either; when I tried, my heart rate spiked and then I went even slower.
It wasn't from lack of fitness; I was training pretty hard, and I could hold a better pace on 10-minute rowing races on the Hydrow machine, which didn't make sense to me because a 2K race is shorter than 10 minutes. Why did one machine feel so much more exhausting than the other? I couldn't figure it out, and the worse I did on the Concept2, the more anxiety I had about it.
So, when I did the practice on Saturday, instead of visualizing it as a race, I told myself that it was just another workout and that everything would be okay. I focused on staying consistent and didn't worry about anything else. Much to my surprise, I felt that I had plenty of energy and was able to maintain the pace throughout. Then I spent all weekend wondering why. What had changed?
By Monday, it occurred to me that the difference was simply that I had started a little more slowly. With a Concept2 race, the machine has to be started from a standstill, and I had been taking three strokes faster than my race pace to get going quickly. Hydrow races, by contrast, have a flying start, which allows for a gradual buildup to race pace before the race actually starts.
I hadn't thought it would matter if I used a little more energy at the start, but apparently that made it harder for me to sense when I was on a sustainable pace. Subconsciously, without having a consistent pace, I couldn't be confident that I had enough energy to finish. I believe what happened was that after a while the uncertainty triggered my mental threat detectors, causing me to slow down to prevent overexertion. When I tested that theory by starting at a consistent pace on Tuesday, I was able to sustain it again.
Now I've started to wonder how many other things in my environment might be causing preventable feelings of anxiety or overwork. Maybe there are a lot of ways in which an easier pace, or some other simple change to everyday routines, might leave me feeling much calmer and more refreshed. I'll be looking for them!