Early this morning I was in a meeting about the features of a new web tool for my team's work. Everything looked good, the managers who were on the call seemed happy with my input, and I felt pretty cheerful. All was right with the world.
Then I thought about another meeting I'd had last year, when this project was just getting underway. I had to present some information and felt nervous about it, worrying that I was getting things wrong and taking too much time, etc. Of course, nobody really thought I was that awful, but I let my imagination run away with me.
Today I felt much calmer and more confident. After everything that has happened over the past year, it's getting easier to push aside those pointless little worries that once took up so much mental space.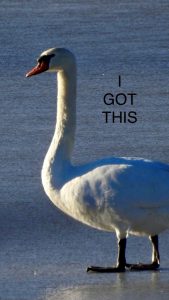 Nurturing Thursday was started by Becca Givens and seeks to "give this planet a much needed shot of fun, support and positive energy." Visit her site to find more Nurturing Thursday posts and a list of frequent contributors.