My husband and I finished ahead of our daughter in last week's Fitbit step challenge. Although she craftily contrived to start with a day's lead, as I mentioned here, I was able to get ahead of her on Friday because that was her travel day, while my husband and I were the dog-walkers. I couldn't quite manage to catch up to our son-in-law, though, mainly because he was sneaky enough not to sync his Fitbit all day, so I didn't know how far ahead he was. Of course, my husband totally crushed the rest of us because he is the most disciplined about regular workouts, so I came in third.
The weather has been wintery here, so we've been walking the dogs in the snow while their owners enjoy a warm, sunny Florida vacation. I have to confess to a bit of jealousy; but going for a walk is healthy even in the snow, and—as the dogs evidently know—there's always plenty of time to laze around on the couch.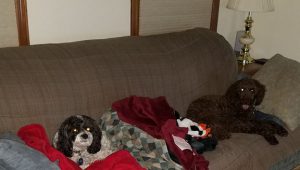 More doggie lessons about being happy in the moment—life is good with regular walks and a comfy couch!