When I wrote last Thursday that I had been struggling not to feel burdened by self-imposed tasks, something didn't seem quite right in that wording, but I went ahead and posted it anyway because I couldn't think of what might improve it.
After work yesterday, my husband and I went to row on the river. The weather was pleasant, with patchy sunshine, moderate temperatures, and little wind. Our coach had assigned a distance of 16K, which seemed a bit much for early-season rowing, although we couldn't deny the fact that our long indoor workouts over the winter had been useful—we competed in three 1K sprint races on Saturday morning, in windy and choppy conditions, without feeling tired. The distance yesterday didn't bother us because we were just glad to get outdoors and enjoy the river, instead of being on the rowing machine in the basement.
I changed the picture on my digital art display this morning, as usual. I noticed that I suddenly felt much calmer after replacing an animated image of fast-moving clouds with a photo showing a distant waterfall slowly trickling over large mossy rocks.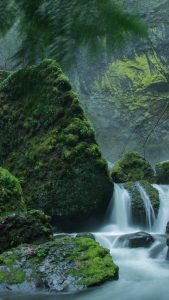 Then, after I got my coffee, I realized why the wording of last week's Nurturing Thursday post hadn't felt right. Framing the issue as "struggling" was the problem. By definition, struggling involves a significant amount of effort, and it implies the existence of a burden under which a person struggles. It reflects our culture's impatient and judgmental attitude toward anything that hasn't shown immediate results. So, by thinking in such terms, I was subconsciously causing myself to feel more burdened, rather than less. No wonder I hadn't been getting anywhere with it!
With storms rolling through the area this afternoon, today's workout (which was not as long as yesterday's row, but more strenuous) had to be done indoors. Because I had a quiet, unhurried workday with no meetings, any time was okay. I randomly picked 11 AM and gave myself a pep talk about not being burdened at all, with so much flexibility in how to arrange my schedule. Although the workout was tiring, my energy level was good, and I had no feelings of being pushed or overwhelmed. From now on, I'll keep in mind that those self-imposed tasks feel much better when they have enough space to flow easily and naturally, like the waterfall on the art display.