Today is a lovely sunny day, but over the past week there have been a few cloudy days as the weather turns cooler. Like many people, I find that the shorter days tend to affect my mood, leaving me with a dark and oppressive feeling. Although the leaves haven't fallen yet, the sky looked like autumn with its heavy, lingering cloud cover when I took this photo—not a bit of blue anywhere to be seen.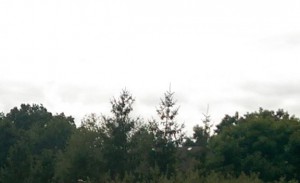 After considering it, though, I realized that how I feel about the change of seasons is not outside of my control. The language I use to describe the weather is entirely my choice, and so I've resolved not to use words like "dreary" to describe dark cloudy days. When it comes to my mood, that is a self-fulfilling prophecy, and not one that I want to inflict on myself! From now on, if it is rainy or foggy or whatever, I'll just use that simple descriptive term without adding a negative gloss to it. And if I notice something I like in a fall or winter day, then I'll say that too!
Nurturing Thursday was started by Becca Givens and seeks to "give this planet a much needed shot of fun, support and positive energy." Visit her site to find more Nurturing Thursday posts and a list of frequent contributors.