My husband and I went on a day trip to London, Ontario, last week. We both enjoy sculling, and my husband's boat needed a small repair, so we decided to take the boat back to the Fluidesign factory where it was made. The owner and his son kindly offered to give us a tour of the facility.
The boats start out as thin sheets of carbon fiber, of various types, which look very much like cloth. They are unrolled and cut to the appropriate size for each particular boat.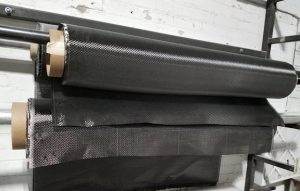 Then they are put into a mold with resin and baked in a very large oven to harden them. The oven had three boats in it when we looked.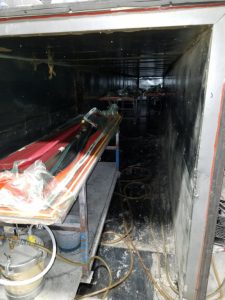 After the shells are hard, they are finished in another area. The company moved to this building not long ago; it's larger than the previous facility and has plenty of space to move boats around and work on them. It was fascinating to see how the shells are made. They're almost entirely hollow, which is why they are light and easy to carry, but they're also strong. My husband expects to get his boat back on Friday, which will be the next scheduled delivery to Ohio.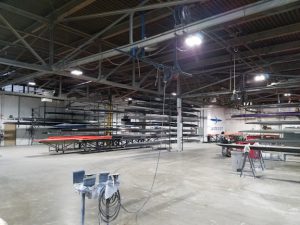 We enjoyed the road trip too. Canada is a beautiful country, and its drivers are careful and courteous. We saw wind turbines everywhere along the highway, which was in very good repair. London's neighborhoods looked welcoming and friendly, with many blocks of well-kept houses with lovely flower gardens on tiny lots. Now we're thinking that it would be fun to go back to London sometime to row in a regatta!