I sometimes do a meditation where I imagine myself turning slowly in a clockwise circle and looking to each of the four directions. Then I consider what messages from my subconscious mind there might be in the various images that pop into my thoughts.
Usually it's like a silent film or a dream without conversation, but yesterday—without having planned it—I found myself imagining that the four directions were speaking to me and offering blessings.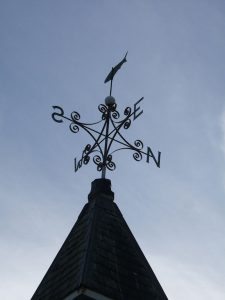 (Creative Commons image via flickr)
I started in the East, as I always do—the direction of the dawn and new growth. I pictured tiny green leaves sprouting up from the cool, damp spring earth, confidently owning their surroundings. "You are safe here," the leaves told me repeatedly as they kept on multiplying, with more and more voices joining in their chorus. "You are safe."
I gave them my thanks and went on to the South, representing fire and summer. Warm pebbles on the dry ground reflected the early afternoon sun. I pictured myself sitting down to look at them more closely, like a child searching for the prettiest ones. Huge tree roots stretched before me, and I felt drawn to touch them. "You are becoming," the roots announced, when I put my hands on them.
Thanking the roots, I turned to the West, where leaves were falling from tall white birches, swirling in a graceful motion through the crisp air. The autumn winds surrounded me comfortably, like old friends walking with me. "You are part of this world," they said.
I thanked the winds before moving on to the North, the land of quiet darkness, cold rain and snow, winter's rest and replenishment. Drops of water fell gently all around me. "You are healing," they assured me.
Once again I gave thanks, and then I returned to my imaginary starting point and let the circle dissolve into the air around me. I pictured its energy flowing into the world, full of blessings for all.