I had planned to write on a topic suggested by Elizabeth in last week's comments—the anxiety that comes from not having many close friends or knowing who will be there for us when we need help, as contrasted with our ancestors' experiences in small, close-knit villages. But instead, I got into a conversation on another blog about standing up for oneself while also maintaining a kind and positive tone, and where to draw the line so as not to react unkindly out of anger.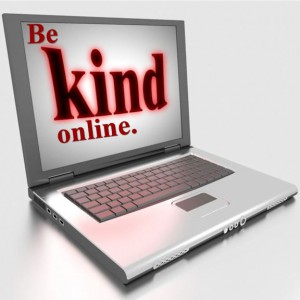 (word-art image courtesy of Bits of Positivity)
How do you find the right balance between standing up for yourself online and avoiding unnecessarily negative situations? If someone wronged you online, such as by copying your material without permission, would you publicly demand that they take it down and apologize, in the hope of putting a stop to their bad behavior? Would you decide that the negative energy wasn't worth it and, after trying to resolve the matter privately, just let it pass? Or would you take legal action? What would you consider the kindest and most self-nurturing way to deal with a situation like that?
Nurturing Thursday was started by Becca Givens and seeks to "give this planet a much needed shot of fun, support and positive energy." Visit her site to find more Nurturing Thursday posts and a list of frequent contributors.