My husband enjoys being a rowing referee, and last weekend he drove to Chicago to work at a regatta there. He took some photos, which he shared with me, and said that it would be a great place for our team to go next year. The course does indeed look beautiful: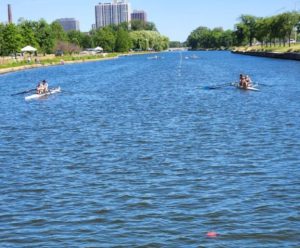 Although he asked me whether I'd like to come along, I declined. Our trip to Philadelphia over Independence Day weekend was a fun adventure, but I just can't be on the go all the time. Instead, I spent a quiet weekend reading on my Kindle and puttering around in the yard.
I am still trying to find that elusive balance between drawing energy from new activities and giving myself enough time to relax so that the energy doesn't all drain away. It probably will feel much easier once I develop a better sense of it.
Nurturing Thursday was started by Becca Givens and seeks to encourage self-nurturing and to "give the planet a much needed shot of fun, support and positive energy."