When my husband and I have been sculling in our double this summer, we've been rowing briskly and then picking up the pace as we practice sprinting to the finish. That may seem like a very basic thing to do, but in past years I never could quite manage it. We learned to row only five years ago, taught by volunteer instructors at the club, and we had no proper coaching until we attended a rowing camp last summer.
So when we started going to regattas in our second year of rowing, my idea of sprinting was pretty simple—row as fast as I could and try to keep that up for the whole course (Masters sprints are 1 km). By the time we got near the finish, I didn't have anywhere near enough energy to go faster.
Then we went to rowing camp last year, where we learned how to set up our boat properly and sit farther toward the stern to get more powerful strokes. And this year, when we attended the camp again, I learned how to pause for just a fraction of a second after dropping the oars into the water, so as to make sure they are fully in the water and not waste my energy. That also helps us to stay better synchronized.
Although it seemed counterintuitive at first, now the boat goes faster even though I'm taking fewer strokes and using less energy. There's a general life lesson in there, I'd say. When we take a moment to slow down and make sure we are properly situated, that can result in getting things done more quickly and effectively.
When I was looking online for a sculling photo to illustrate this post, I came across one that was taken with the Royal Dutch Mint in the background: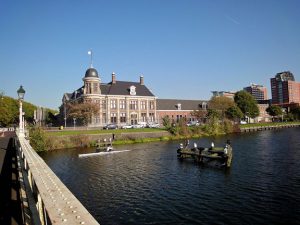 (Creative Commons image via flickr)
So far my husband and I haven't done a lot of traveling to regattas—we go down to Tennessee a few times a year, but that's usually as far from home as we get. It would be fun to have a rowing adventure in Europe someday, though!