A few months ago, when I was browsing through the online library collection for the digital art display in my dining room, an image of a quaint faraway city captured my attention. Deep blue shadows on a stony hillside framed the city's rooftops.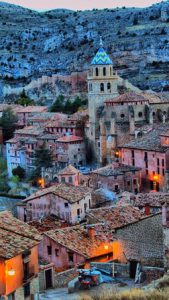 I put it in my favorites folder, wondering, as I did so, just what I was going to do with it. Usually I try to match the image on the art display to the ambient light coming in through my windows, so that I can trick my brain into seeing it as a "window" onto a new landscape or cityscape every day.
"Maybe in the middle of winter," I said to myself doubtfully. That blue was quite striking, but it didn't look like any natural light that ever came into my ordinary suburban house. Sure enough, it sat in my favorites for months, without coming close to looking like a good match.
This morning I woke up to a gloomy Monday sky that couldn't quite make up its mind whether it wanted to snow or rain, so it split the difference by leaving the ground coated in an icy bluish glaze. Something about that color looked familiar, but I couldn't quite place it until I opened the art display's app to choose an image for the day. There it was—the deep blue cityscape—just perfect!