I've been going through the old Halloween costumes, well-loved baby blankets, and other stuff in the basement closet that left me saying "Awwww!" My daughter was so cute dressed up as a turtle when she was in kindergarten. But rather than keep a jumbled heap of old costumes forever, I'm posting this photo to preserve the memory, and then I'm letting it go.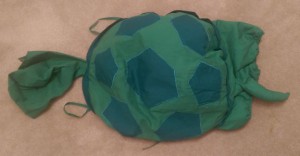 Like the turtle that won the race with the hare in the ancient fable, I've been working on my clutter at a slow and steady pace, and one of these days I'll reach the finish line!
About Clutter Comedy: Every Sunday (which I envision as a day of rest after a productive week of de-cluttering) I post a Clutter Comedy article describing my most memorable clutter discovery of the week. Other bloggers who wish to join in are welcome—just post a link in the comments! There's no need to publish any "before" photos of your clutter, if they are too embarrassing. The idea is simply to get motivated to clean it up, while having a bit of fun too!