I've had a quiet, cozy Christmas day, and right now I am enjoying a cup of hot tea as night falls over the snowy landscape outside my window. I imagine there will be more adventures in the year to come, but there is no rush. Just being here with my family, in this moment of grace, is enough for now.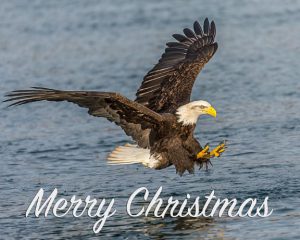 I'm sharing this image because it reminded me of a real encounter with a bald eagle on the river, a few years ago. Right next to my husband's single scull, an eagle swooped down, talons wide. It was quite a startling sight while rowing! The eagle had spotted a fish, which it grabbed neatly out of the water.
Wishing a very merry Christmas and an adventurous New Year to all!