Over the weekend, the weather turned rainy, dark, and chilly here. It's starting to feel like winter is not far away. Before I sat down at the computer to write this post, I put on my fluffy winter socks and comfy pajamas with a matching scarf.
But I'm not quite ready to give up summertime feelings of adventure and settle into long months of quiet hibernation, so I put this photo taken in Japan's Yakushima Forest on my digital art display: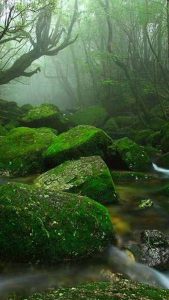 Doesn't it look like an illustration of an enchanted forest from an old-fashioned book of fairy tales, where anyone who followed the stream far enough would discover a magical cottage full of hidden treasures?
And with that picture on my wall, it's almost like my house is the fairy cottage and I am looking out the window at the path I followed to reach it, after bravely daring to walk in the front door and finding no witches or goblins lurking there. Just right for the day before Halloween!