Today still felt like summer here, warm and sunny; but there's no mistaking the change of seasons when the days keep getting shorter. This morning I put some Pumpkin Spice coffee on the K-cup carousel, taking the place of my Raspberry Chocolate Truffle summer favorite, so as to get ready for the chilly mornings that are forecast for the weekend.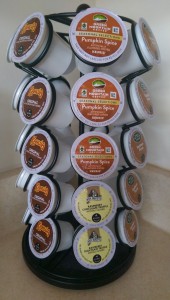 Although I generally like the long days of late spring and early summer the best, there is always something to appreciate at any time of year! Seasonal flavors—whether they're of coffee or anything else—are a tasty reminder that nothing ever stays the same, and we should enjoy life's carousel as it turns.
Nurturing Thursday was started by Becca Givens and seeks to "give this planet a much needed shot of fun, support and positive energy." Visit her site to find more Nurturing Thursday posts and a list of frequent contributors.