All parts of this story are consolidated on one page here.

The sliding glass door closed smoothly behind her. Steam rose from the coffee mug on this pleasantly cool morning. A forgotten corner of the back garden beckoned. She had been meaning to get it cleaned up for ages, but she never had gotten around to it. The bench still needed a fresh coat of paint and was overgrown with so many roses that sitting down wasn't much of an option. Even so, looking at its riotous, unkempt beauty on this lovely morning, she couldn't help but to smile. All was right with the world.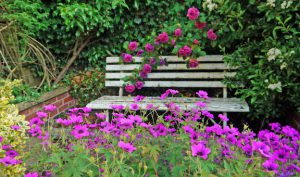 The tranquil birdsong was interrupted, a moment later, by the sound of someone crying. The terrified sobs sounded like a frightened child. She took a step back from the roses, and the garden abruptly faded to blackness around her.
Ina sat up in her bed in the dormitory; another dream, gone. Something about roses—there were always roses in her dreams, and a quiet, peaceful house. Lighting the candle on her nightstand with a casual flicker of thought, she turned toward the shuddering girl in the next bed.
"Wake up, Phoenix. You're having a nightmare again."
Big dark eyes blinked, reflecting the candlelight.
"It was the same place." Hands trembling, Phoenix tugged ineffectually at the heap of covers that had gotten tangled around her. "Some ugly, grimy building like a dungeon, and they were whipping me again. Maybe I was a slave or a prisoner before I came here. I can't remember any of it clearly, and I don't want to know. When Mother Ocean took away my memories, she did me a kindness."
Farther down the row of beds, another pair of eyes gleamed in the flickering light. Firefly sat up, leaning against the headboard as she twisted back an unruly lock of hair that had escaped from her nighttime braid.
"I dreamed about a goat doing handstands in a field of daisies," Firefly said, in what sounded like a valiant effort to shift the conversation to a more cheerful topic. "Or maybe that would be front hoof stands, don't you think? Because goats don't have hands, of course."
"Yes, hoof stands, I suppose so," Ina said absently, still trying to recall at least a few details of the roses in her disappearing garden. Large blooms, an old bench—of that she was fairly sure. And somewhere nearby, a low wall—had it been brick or stone? And was ivy growing on it? Tendrils of ivy danced in her thoughts, mocking her inability to put together a clear image.
After a minute or so, Ina gave up, committing those meager scraps of information to the imaginary shelf in her mental library that held the fragments of a now distant life. She held onto a small, half-formed hope that if she gathered enough of them, one day they might come together into a pattern that made sense. Her lessons had been like that sometimes, made up of little snippets that eventually grew into a coherent whole.
Firefly was still chattering about goats, or something else just as unimportant. Ina hadn't paid enough attention to give any meaningful response to it.
"Do you ever remember, Firefly? Anything?" Without knowing what had come over her, Ina suddenly found herself asking the one question that the girls never discussed.
"Remember, you mean—before?" Firefly's usual cheerful expression turned into a ferocious scowl. "No, and I don't see any reason why I should want to, either. We have a very good life here. It's fascinating to learn about the creatures of the forest, river, and prairie. Being a peasant girl in some filthy little village would be awful—working in the fields all day, having to marry some nasty man just because he paid the bride price, and then being pregnant all the time. Ugh!"
Her words were spoken with such unexpected vehemence that Ina suspected there might be some memories lurking behind them, despite the denial. Whether or not that was so, it was plain that this conversation was over—even before Firefly turned her back to Ina and pulled the covers up over her head. Phoenix had closed her eyes, probably not asleep, but doing a creditable imitation of it.
Now it is time to rest, Ina communicated to the candle's small flame, which obediently quenched itself. Staring into the darkness, she found herself quite unable to take her own advice. Her mind was anything but restful as an endless parade of questions stormed through it. Who had lived in the house with the roses and the old bench? Did she have a family waiting for her to come back? Were they grieving her loss? Would she ever find her way home to them again?

Click here to continue to Part 11.