Although I'm feeling much more relaxed because of taking vacation this week, all of that unscheduled time has been provoking what-comes-next thoughts. Everybody seems to be having them now, according to a news article I came across, which reported on a survey that found 95 percent of workers were thinking about quitting and 92 percent might change careers. Burnout was cited as the main reason.
The survey came from a jobs website, so it's obviously a skewed sample and the real numbers are lower. Also, just thinking about doing something different does not necessarily mean that a person will take the leap and actually do it. The U.S. Department of Labor has calculated the number of quits for May 2021 at 3.6 million, which is down from April's record high of 4 million, though still much higher than in past years.
I took a short break from writing this post to bring in a package from the porch, addressed to my husband. He opened it to find an unexpected gift from his employer—a little toy helicopter to commemorate the successful launch of the project he has been working on. Once upon a time, I used to get small gifts like that too. After a while, it started to feel like ancient history, and seeing them on my desk felt demotivating because management plainly didn't care enough about the workers to ever do it again. So I boxed them up and put them in the basement.
Since then I still haven't found an intuitive sense of direction. As my fictional 76-year-old future self Kass pointed out in an imaginary chat on this blog last summer, that turned out to be fortunate because most people who changed careers two years ago ended up in very different circumstances than what they expected. Now that the world feels like it's settling down into a more recognizable pattern, I feel that my subconscious mind ought to be able to sift through the details and come up with something meaningful.
So I decided to take a virtual stroll down to the stream where I'd found Kass casting a net for symbolic images last year. The low water was murky and full of lily pads, and at first I didn't see her.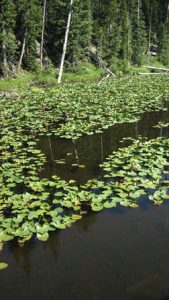 (Image credit: James St. John)
After I went a little farther upstream, around a wide bend, I spotted Kass standing knee-deep in the water. She had on wading boots and some kind of drab uniform, and the curly hair under her cap had been dyed a darker shade of brown since I last saw her. A gloved hand carefully tucked away a test tube into a backpack.
"I'm taking microbial samples," Kass explained, in response to my curious look. "The river of time needs regular monitoring, you know, just like any other body of water does. Can't have it getting polluted with all kinds of random garbage, can we? And didn't you have a few thoughts about going back to college to study biochemistry?"
"Not that seriously. And the last time I was here, you said this was the stream of consciousness."
Kass shrugged. "It's whatever it needs to be."
A fly bit my right arm and zoomed mockingly away before I could smack it. The failed attempt left me off balance, and I took a step backward into squishy, smelly muck in which the geese had left their calling cards.
"I'm really not seeing myself in this job you've got." Scowling at my future self, I scratched my arm while wiping off an icky shoe in the grass as best I could.
"That's what imaginary scenarios like this are for, you know—narrowing down the possibilities. If this one won't suit, how about I'm happily retired and living in a beachfront cottage in Aruba with the money you saved, snapping my fingers at the cabana boy to bring me another margarita." Kass raised a hand before frowning slightly and dropping her arm again. "Except that you never learned how to snap your fingers properly, which is a bit annoying; and that margarita is much more likely to be delivered by a cabana robot. Workers are hard to come by in the future economy, what with the low birthrates."
"Retirement never had much appeal to me anyway. Sitting around for decades with nothing productive to do sounds like it would be awfully boring and unhealthy."
"Doing the same work forever, without trying out other possibilities because it seems too hard to pick one, wouldn't be ideal either." Kass took a few steps and came up on the shore, her boots dripping. "It's best not to judge. Everyone in the modern world is struggling with the same issue—so much change, so many decision points—how can we have any idea where we're going? My advice, at this point, isn't so much about picking careers, but simply about discovering what the world has to offer. You'll know what makes you happy when you come across it. And, be sure to set aside enough time for minding the river's health."