When I wrote last winter on the topic of sorting out my subconscious narratives about money, I imagined packing off my inner Cinderella to start a new and happier life in the abandoned village of Channelwood from the computer game Myst. After she sailed off into the sunset, I thought that maybe I would feel more comfortable with spending money.
It didn't quite work out that way, though. This winter, I still felt that my subconscious money stories weren't what I needed to feel confident about my finances. What was I missing? Then it occurred to me that I hadn't crafted a new story to replace Cinderella. Just sending her away was not enough; I needed to fill the space with something better, or else those old anxieties would creep back into their familiar haunts.
So I decided to go visit Cinderella and see how she was settling into her new home. I'd promised to bring her some playmates anyway, whenever I found similar characters wandering around in my mind. The journey began with a leisurely carriage ride through the foggy streets of nineteenth-century London, accompanied by young Sara Crewe from the children's classic "A Little Princess" by Frances Hodgson Burnett.
Sara was a well-mannered and thoughtful child, with dark hair and big green eyes, who had been left with nothing but her pride and her imagination upon being orphaned. All at once, she went from being the most pampered pupil at an exclusive private school to a bleak existence as a half-starved drudge living in the school's attic with the rats. She never complained, but got through her days by pretending that she was a princess in a fairy tale and that there would be a magical happy ending (which of course there was, since this is an old-fashioned children's story).
The author's main point was that with enough imagination, anything is possible. When I read the book as a child, though, it also gave me the message that life is precarious. No matter how good everything seems to be at the moment, it all could vanish tomorrow. Fate is fickle, and even if the story may eventually have a happy ending, there's no way of knowing how far in the future it could be.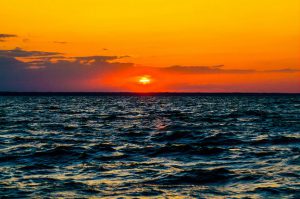 (Creative Commons image via flickr)
Once aboard the ship, Sara gazed quietly out over the waves with a little smile, as if remembering happy travels in her past. We arrived at Channelwood just as the sun was about to set in a gorgeous orange sky. A small figure ran to greet us at the dock, with rosy cheeks, bright eyes, and strands of golden hair escaping from a simple bonnet.
"You're looking very well indeed, Ella," I greeted her. "The sea air and the peace and quiet certainly do agree with you! Here's a young friend I brought to keep you company."
After making our introductions, we walked up a neatly swept wooden path to the wicker tree houses of the village, set high in the branches above a bayou. Waves lapped gently at the thick trunks. Flower boxes at intervals along the path were bright spots of color in the fading sunlight. A breeze carried the inviting scent of ripe peaches from a well-tended orchard on higher ground not far ahead, where a windmill spun briskly.
"I'm used to keeping things tidy," said Ella in a matter-of-fact tone, when I complimented her industrious work. "Really, it's not that hard. There are oysters in the bay, and sometimes they have pearls, which I can trade for cloth and whatever else I need. The ship comes by often enough that I haven't felt too alone. It will be lovely to have Sara here, though!"
We both turned toward Sara, who had tilted her head to one side and was gazing up into the branches. She declared cheerfully, "These houses are so tiny, I think they were built by a tribe of monkey people. I can imagine them leaping along the walkways between the trees and swinging from the branches, can't you?"
Ella's momentary look of bafflement made plain she hadn't imagined anything of the sort, but she gave Sara a good-natured smile anyway. "If there once were monkey people, they're not here now. We have the village all to ourselves, and with two of us, we can fix it up twice as nice!"
The girls chatted enthusiastically by the flickering light of peach-scented candles, over a simple dinner of baked fish and vegetables, about all the things they could do with an entire village to themselves. Then we all slept comfortably, up in the trees, on wicker beds heaped high with down-filled cushions. (In real life, I took a break from writing this post to eat pizza for dinner when I wasn't sure how the ending would go, and after a while I went to sleep in my usual bed.)
When I woke up much refreshed (in both this story and real life), I noticed a positive shift in my mental energy, which can best be described as an "it's not that hard" feeling. At first I wondered where it had come from, and then I realized it was the change I had intended to set in motion with this story! After I left Ella's description of her new life to sleep on last night, it soon found a place in my subconscious where I wanted it. Pearls and orchards—a world of abundance for the picking!
I thanked Ella for her hospitality, said my fond good-byes to both her and Sara, and returned to the ship to sail back into reality—which, as all good readers know, is always intertwined with the realm of imagination.