The digital art display that hangs on my dining room wall is more than just a decoration. I've found that when I take a few minutes to browse through the online library and change the picture every day, it gives me insight into what's going on in my subconscious mind, guiding me toward whatever I might need at the moment.
The image I chose for Sunday was a quiet pond with bare trees. I don't know where it is; the caption simply said "Pond." The idea that it could be anywhere in the world fits the mood quite well, though—silent and reflective as winter holds on, not yet ready to give way to springtime.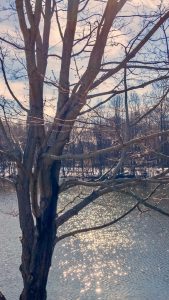 Soon enough, there will be busy days again, exciting new adventures and explorations. But for now, all that I needed was a peaceful, meditative day of rest—and the picture on the wall gave me that message as clearly as if it had spoken.