After spending so much time this year rowing with my husband and traveling to regattas, it feels sad to look outside and see frost on the grass in the morning, while the boats sit empty until warmer weather returns. But, on the other hand, it's not realistic to be on the go forever. Although it would be nice to have unlimited energy for fun activities, sometimes what's needed is to relax and not be in a rush.
My subconscious mind drove home that message on Monday morning with no subtlety whatsoever, before I fully woke up. An unexpected thought came into my head without any filtering. "Thank God it's Monday," my half-asleep brain informed me. "It's just an ordinary workday, and there's no need to go anywhere."
That left me considering how I might do a better job of balancing travel and adventures against the need to rest and replenish my energy. Even though this wasn't something that happened long ago, I decided on Tuesday evening that a make-believe conversation in one of the tiny houses of Channelwood, the imaginary village where I send my stressed-out past selves for a restful vacation, could give me some insight.
I pictured my half-asleep Monday morning self sitting on the bed next to me. The scenario reminded me of a dorm room because the only other place to sit was a desk chair. Outside a narrow window, a cliff fell sharply away to the ocean, and I heard the surf and seagulls clearly.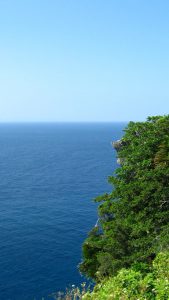 (Creative Commons image via flickr)
I couldn't manage to compose any useful dialogue, though. Monday-Morning-Before-Coffee-Me was not lucid enough to put more than a few words together, and just looked like she wanted to go back to sleep. And to be honest, I didn't think of any good questions to ask her before I was dozing off too.
It wasn't a completely wasted exercise in imagination, though, because the idea of a dorm room left me dreaming that I was back in college. I wanted to eat a leisurely pancake breakfast in the cafeteria, but my husband (who was, of course, my boyfriend then) was telling me to hurry up and grab something quick.
In real life, he generally doesn't try to rush me when I am eating breakfast because he knows I hate that. So I interpreted the dream-image as referring not to him in particular, but to whatever might put me in a rush.
As for the pancake breakfast in the cafeteria, I decided that was my subconscious mind's advice for enjoying a more restful life; and I made banana pancakes with real maple syrup. Yum, that left me feeling better!