I've never been among those who hurry out and buy pumpkin spice products as soon as they show up on the store shelves in late August, but I can understand the feeling. As the season changes and the days get shorter and darker, we need to surround ourselves with fun little things to keep us feeling cheerful, even on stormy afternoons when we can't get out and do much.
So, I'm sharing a harvest tapestry image for Nurturing Thursday, even though it's not quite fall yet: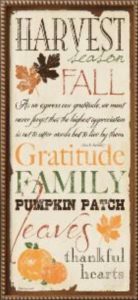 Nurturing Thursday was started by Becca Givens and seeks to "give this planet a much needed shot of fun, support and positive energy." Visit her site to find more Nurturing Thursday posts and a list of frequent contributors.