In the "definitely going stir crazy by now" category: Last night, I was looking online for good photos to put on my digital art display. I particularly liked this one, showing Beaver Creek, Alaska, which was posted by the United States Bureau of Land Management.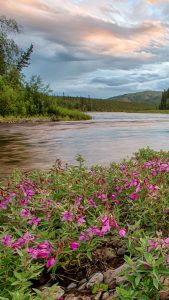 But I probably shouldn't have been on the computer so soon before going to bed. Apparently as a result of seeing the photo, I had a wacky dream in which my family played a game of touch football in our backyard—against a team of giant beavers.
Their coach was using hand signals to tell them what plays to run, and they were pretty good at the game. In fact, the beavers were winning. I was getting pretty frustrated when I woke up and was thankfully restored to sanity—such as it is nowadays.