I chose a horn of plenty image for my Nurturing Thursday post because, right now, I have plenty of reasons to be thankful. All of my family are in reasonably good health and good spirits. I had some fun adventures this year traveling to rowing regattas with my husband. Everything at work is going pretty well. Although I had a few unplanned expenses this year, such as having to replace my old refrigerator and air conditioner, anything that can be fixed with money is not really that much of a problem. Besides, I like the new refrigerator and air conditioner much better than the old ones.
Wishing plenty of Thanksgiving blessings to all!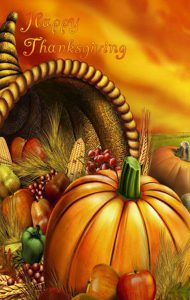 Nurturing Thursday was started by Becca Givens and seeks to "give this planet a much needed shot of fun, support and positive energy." Visit her site to find more Nurturing Thursday posts and a list of frequent contributors.