I planted a row of willows in my backyard in 2006, thinking they'd be well suited to an area that was lower than the surrounding terrain and often got soggy in the spring. They were so tiny that I had to put cages around them so they wouldn't get nibbled to death by rabbits. And although they did indeed thrive on all the rain and snowmelt in the spring, they needed plenty of watering through the summer. It took a while, but now they have grown into a lovely, tall, solid hedge.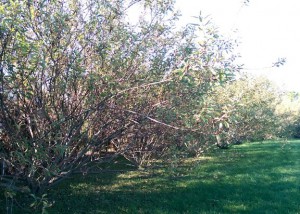 Also in 2006, an educational charity of which I am a board member was incorporated—the Autistic Self Advocacy Network (ASAN), headquartered in Washington DC, which teaches leadership and self-advocacy skills. Like the willows, it started out tiny, with just a few volunteers. But over the years it has grown into a stable corporation with a solid track record of grants and projects, and will be celebrating its eighth anniversary next month. (Here's a link to the Gala Registration Page for anyone who will be in the DC area on November 12th and would like to support ASAN's work by attending!)
It's not quite three years since I started my blog, but I have the same feelings of positive growth and solidity with regard to my writing. At first I didn't post as often, got fewer comments, and wasn't as organized with the blog as I wanted to be. This year it's all flowing more easily, I feel more connected to the blogging community, more content has built up in my archives, and I'm having more fun overall! It's really amazing how much power there can be in the small things we do over time.
Nurturing Thursday was started by Becca Givens and seeks to "give this planet a much needed shot of fun, support and positive energy." Visit her site to find more Nurturing Thursday posts and a list of frequent contributors.