This post got its title because it grew out of random thoughts, wandering from one subject to another, which started during a conversation with my husband at the river on Sunday afternoon. He was talking about modern technology and how everything changes so fast, people don't even know what they are missing when they haven't kept up with the changes. Meanwhile, I was looking at some wildflowers growing in the mud next to the dock and wondering what they were. My next thought was that I could post a photo on my blog and ask if anyone knows the name of these flowers.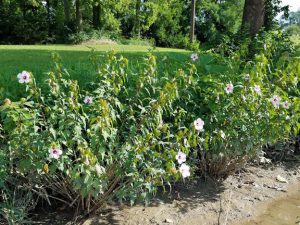 Then I agreed with my husband that today's world gives us many options we never could have imagined if we hadn't seen them. In the ancient pre-Internet world, maybe I'd have gone to the library and looked through a book about wildflowers. I probably wouldn't have found those particular flowers, but I'd have learned a few interesting random facts. Sometimes when I was a child wandering around in a meadow looking at wildflowers, I just made up names for them because that seemed like more fun anyway.
I have to confess, it took me a while to decide what tag to use for this post. My blog does not have a "Nature" or "Wildflowers" tag because I haven't taken many nature photos. That left me with a decision—should I create one or pick an existing tag? While looking at the list of tags from my previous posts, I noticed one called Adventures, which hadn't gotten much use.
Although looking at flowers on the riverbank might not be all that exciting to a grown-up, I would have thought otherwise in the days when I was a child inventing names for wildflowers and fanciful stories to go with them. So I decided to use the Adventures tag and to put the word in the title as well—just to remind myself that in a good life, there should always be time for adventures.

Update: Mystery solved—it is a mallow plant, which has herbal uses and was the origin of marshmallows. Thanks to Carolyn at Nuggets of Gold for that info!