It's holiday fruit basket time! And though the fruit may be yummy, the basket is likely to become clutter when January rolls around. I received a gift of apples, oranges, and other fruit in a nice sturdy metal bowl about ten years ago. After eating the fruit, I wasn't sure what to do with the bowl; but I kept it because I thought it might be useful for something. I never actually did anything with it, though, and it ended up sitting on a shelf in my laundry room all these years.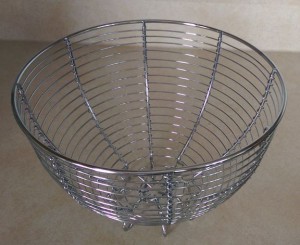 Because I always keep fruit in a glass bowl on the kitchen table (shown in this post), it didn't seem likely I would have any use for the metal bowl in the future, either. I considered buying more fruit at the supermarket and re-gifting the bowl at Christmas, but decided the best choice was donating it at the thrift store across the street from the supermarket instead. That way, I made sure it got out of the house—otherwise, I might easily have forgotten about the bowl and let it sit around for another ten years!
About Clutter Comedy: Every Sunday (which I envision as a day of rest after a productive week of de-cluttering) I post a Clutter Comedy article describing my most memorable clutter discovery of the week. Other bloggers who wish to join in are welcome—just post a link in the comments! There's no need to publish any "before" photos of your clutter, if they are too embarrassing. The idea is simply to get motivated to clean it up, while having a bit of fun too!