I've got the sprinklers set up today because the weather has been dry, the grass is turning brown, and the lawn service company just did the yearly aeration. Also, while I was outside, I watered the gardenia that I keep in a pot next to my garage (shown in my June 12th Nurturing Thursday post).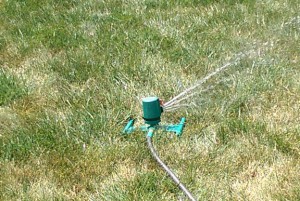 That got me thinking about how we notice when our yards need watering, but sometimes we overlook the signs in our personal lives that tell us we're in need of more nurturing. When we don't take care of ourselves, we're probably not going to look in the mirror and think that we look parched like the grass, even though we really do look tired and stressed. Just like our yards, we need to "water" ourselves regularly.
Nurturing Thursday was started by Becca Givens and seeks to "give this planet a much needed shot of fun, support and positive energy." Visit her site to find more Nurturing Thursday posts and a list of frequent contributors.