These dark autumn afternoons have put me in mind of childhood days when I would go out to play after school, no matter what the season or the weather. Paths in the woods were always an adventure, and sometimes I would go off the path and imagine myself to be a famous explorer in the wilderness. Even if I got burrs in my stockings (that was back before girls wore pants), it was fun anyway.
As adults, we spend most of our time following the well-worn paths of our everyday activities. This time of year, it's probably dark when we get finished with our work, and we have other things to do and wouldn't be interested in getting mud on our shoes wandering in the woods anyway. Still, it's good to keep the spirit of exploration alive, such as by learning something new or visiting blogs we haven't read before. When we get off the path, there's no telling what discoveries we might make!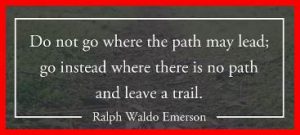 Nurturing Thursday was started by Becca Givens and seeks to "give this planet a much needed shot of fun, support and positive energy." Visit her site to find more Nurturing Thursday posts and a list of frequent contributors.