The crystal bead necklace that I've been calling my worry beads (shown in other Nurturing Thursday posts here and here) served as a bracelet today, instead.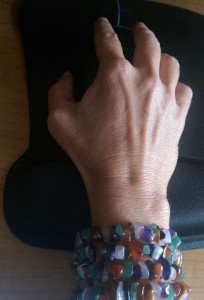 My right wrist has been feeling sore this week. As far as I know, this is not from exercise or from anything unusual, so it's likely that I have been putting more pressure on it while sitting at the computer. I looped the beads around my wrist both to ensure I don't press on it and to increase my body awareness.
Now I am wondering if there may be some area of my life where I've been doing too much "pushing" to get things done faster, which has caused me to subconsciously push down on the mousepad harder than usual. Our bodies do send us messages sometimes—we just have to be open to listening!
Nurturing Thursday was started by Becca Givens and seeks to "give this planet a much needed shot of fun, support and positive energy." Visit her site to find more Nurturing Thursday posts and a list of frequent contributors.